A Description of a Roman Army Camp by Jewish historian Josephus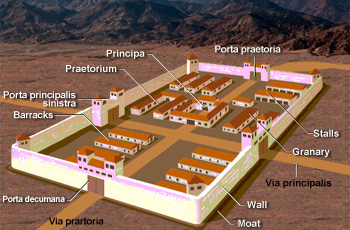 W HENEVER they [the Romans] invade hostile territory they rigidly refuse battle till they have fortified their camp. This they do not construct haphazardly or unevenly, not do they tackle the job … without organized squads; if the ground is uneven it is thoroughly leveled, then the site is marked out as a rectangle. To this end, the army is followed by a large number of engineers with all the tools needed for building.

The inside is divided up, ready for the huts. From outside, the perimeter looks like a wall and is equipped with towers evenly spaced. In the gaps between the towers they mount [mechanical] spear-throwers, catapults, stone-throwers . . . all ready to be discharged.

Four gates are constructed, one in each length of wall, practicable for the entry of baggage-animals and wide enough for armed sorties [detachments of combat troops], if called for. The camp is divided up by streets, accurately marked out; in the middle are erected the officers' huts, and in the middle of these the commander's headquarters, which resembles a shrine. It all seems like a mushroom town, with marketplace, workman's quarters, and orderly rooms.



* * *


SOURCE: Josephus: The Jewish War Book 3 Chapter 5, translated by G. A. Williamson (Harmondsworth, England: Penguin Books, 1959) Pg 195.