Breaking Archaeological News!
Roman 10th Legion Encampment
Larger than Previously Thought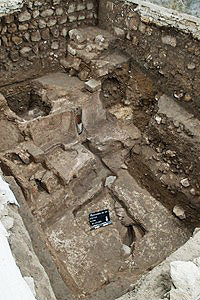 Jerusalem, November 2010

Just weeks ago, as the special "Jerusalem" issue of the March/April 2011 BAR was being put together, the Jerusalem Post reported the discovery of an ancient Roman bathhouse that was in all likelihood used by the same Roman soldiers who destroyed the Second Temple in Jerusalem, the Israel Antiquities Authority announced.

The surprise discovery includes a roof tile stamped with the symbol of the 10th Roman Legion: LEG X FR. Roman bathhouses were a common feature of Roman legionary fortresses, and typically located just outside the walls of the Roman fort. These bathhouse remains were found in the Jewish Quarter, close to and midpoint along the Western or "wailing" Wall.

"The discovery shows that Roman encampment established to keep Israel under control was larger than previously thought," an expert told CNN.

According to Dr. Yuval Baruch, the Jerusalem District archaeologist of the Israel Antiquities Authority, "What we have here is a discovery that is important for the study of Jerusalem. Despite the very extensive archaeological excavations that were carried out in the Jewish Quarter, so far not even one building has been discovered there that belonged to the Roman legion. The absence of such a find led to the conclusion that Aelia Capitolina, the Roman city which was established after the destruction of Jerusalem, was small and limited in area. The new find, together with other discoveries of recent years, shows that the city was considerably larger than what we previously estimated. Information about Aelia Capitolina is extremely valuable and can contribute greatly to research on Jerusalem because it was that city that determined the character and general appearance of ancient Jerusalem and as we know it today. The shape of the city has determined the outline of its walls and the location of the gates to this very day."

In light of the premise put forward in The Temples that Jerusalem Forgot, the central location of these ruins is likewise significant, as they would be just outside the midpoint of the Roman Fortress Antonia.



* * *


Photo courtesy of Israeli Antiquities Authority.